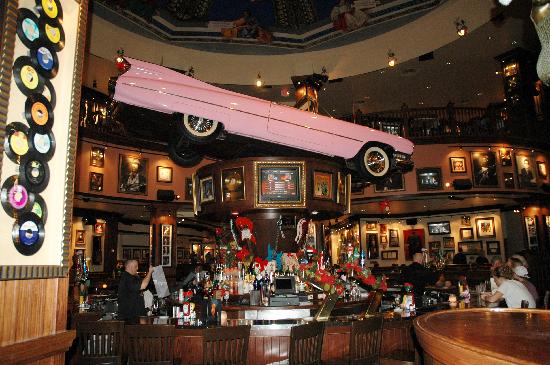 Hard Rock Cafe Orlando
Only 20 minutes to Orlando International Airport
In Orlando, the main attraction for tourists as well as locals is the Hard Rock Cafe Orlando. It is located in the CityWalk entertainment complex at Universal Studios Orlando and it is the biggest HRC in the world.
Standing magnificently with its tall, statuesque pillars, it houses the world's greatest collection of music memorabilia, and you can see it on display when you visit. Check out the suit Elvis wore in the movie Viva Las Vegas, catch a glimpse of some Beatles posters, and look through Buddy Holly's famous black glasses. You can also admire what's left of Pete Townshend's Fender Stratocaster. See the dress Lady Gaga wore during her "Harper's Bazaar" magazine shoot in 2014, as well as a dress worn by Rihanna during her Diamonds World Tour in 2013. This list of memorabilia is endless.
At this HRC, you'll be able to sample dabble in American cuisine and barbecue specialties, like steak, fajitas, all kinds of salads, ten different kinds of burgers including the Legendary® Burger. Plus desserts and a full bar.



Nothing is more delicious than the Legendary® Burger at Hard Rock Cafe Orlando. Not in the mood for a burger? There are plenty of other options to choose from. Order a fresh salad, sandwich, or decadent sweet dessert during your next visit.
Hard Rock Cafe Orlando is just 16 minutes from Orange County Convention Center and 18 minutes from Walt Disney World Resort.
Address: Universal Orlando Resort, 6050 Universal Blvd, Orlando, FL 32819
Restaurant Hours: Daily 8:30AM – 12:00AM
Bar Hours: Nightly until 1:30AM
Rock Shop Hours: Mon – Sun 9:00AM – 12:00AM