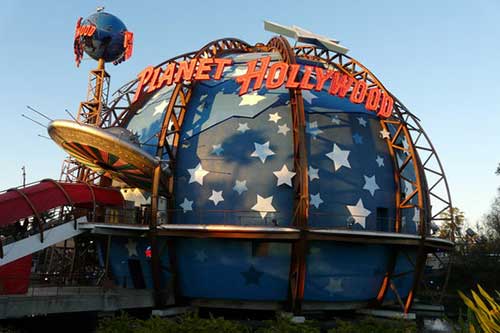 Planet Hollywood Orlando
Casual Dining
24 miles to Orlando International Airport
You will feel like a Very Important Person the moment you enter Planet Hollywood Orlando.
When you walk into Planet Hollywood, you will be taken back in time with its turn-of-the-century designs and magnificent architecture. You will discover several exhibits of one-of-a-kind?Hollywood artifacts and a gigantic?4,500-square-foot wall of?a movie in?state-of-the-art sound and media.
And the food is pretty good too. The menu has been revamped, featuring a unique selection of burgers and sandwiches from chef Guy Fieri. With an assortment of shareable starters and the upscale dishes like New York strip steak and the world-famous Chicken Crunch, you can't go wrong here.
You will enjoy the innovative cuisine, live entertainment, and rare Hollywood memorabilia featured at Planet Hollywood Orlando.
Planet Hollywood is 8 miles to Orange County Convention Center and less than 2 miles to Walt Disney World Resort.