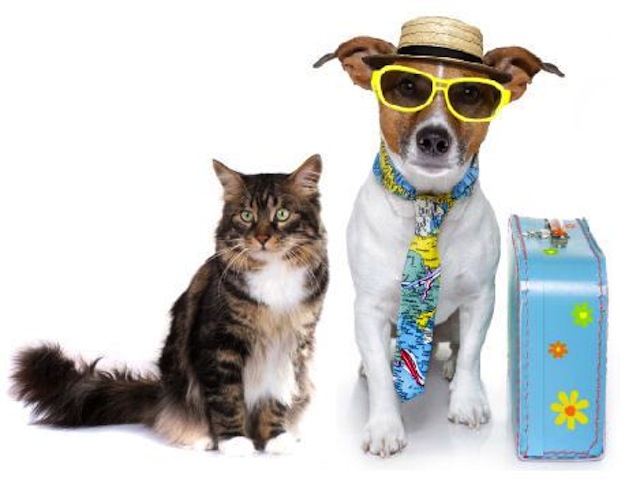 Traveling With Pets
It is beyond trendy. More and more people are now taking their pets along everywhere they go. It's not unusual to see someone carrying their little pooch in a fashionable dog case at the mall or even a coffee shop. Of course, when going on vacation you want to take your best friend with you too. Pet travel is a growing business and it's here to stay, so here are a few tips to your trip not only pleasurable for you but for your little one.
It's important for you to know what kind of pet you have and what size†she is. Many†airlines allow small pets such as dogs, cats and domestic birds as carry-on luggage. Your pet will need to fit in TSA-compliant carrier that†must fit under the seat. She'll need to be least eight weeks old and completely weaned. And she must be calm. If your pet shows any signs of distress or aggression, the airlines will not allow her on board. Your petís current health certificates may also be required by certain†airlines.



Once your pet has met all these requirements, its time to prepare her for a comfortable trip. The crate should be large enough for her turn around and stand freely, and lie down comfortably. Be sure to trim her nails so they don't snag on the crate door. Last but not least, place a favorite blanket or toy in the crate to make her feel comfortable. If your friend gets nervous whenever she flies, be sure to get her used to the crate before your big trip. Steer away from sedatives, which the ASPCA and many veterinarians strongly recommend against using. Some airlines will not even allow your pet on the plane if they know she has been sedated.
Many countries have strict quarantine requirements for animals arriving internationally. For places such as the Bahamas, you will definitely need a special certificate.
Be prepared to pay for the privilege of traveling with your pooch. Some airlines will charge anywhere from $30 to $150 each way for letting Fluffy or Fido sit under the seat. Also, some airlines will consider your pet a part of your carry-on allowance. Once you decide to bring pet on your vacation with you, try to reserve his space as far in advance as possible. Many airlines allow only one crate in first class and two crates in the main cabin.



Please be considerate of others around you when traveling with your pet. You won't want to inconvenience someone who is allergic to dogs or cats. Think twice about bringing her if he barks and keep her inside her crate at all times.